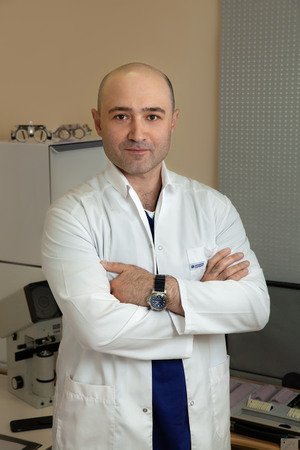 Clinic: Moscow
Work experience: 15 years
Doctor of Medical Science, eye care professional, ophthalmic surgeon.
Background
1998 - 2004 – graduated with awards from Cuban Medical Academy in Krasnodar with specialization in General medicine.
2004 – 2006 – residency training in ophthalmology at the State Educational Institution for Further Professional Education "Russian Medical Academy of Further Education" in Moscow.
2006 - 2009 – post-graduate student at the department of ophthalmology with additional courses in pediatric ophthalmology and orbital pathology in the Russian Medical Academy of Further Education in Moscow. On December 15, 2009 Murat Baizetovitch successfully defended his candidate thesis.
"Ultrasound Wetlab cataract surgery" Bashkir State Medical University, Ufa, 2005;
"Excimer laser Lasik, PTK, PRK", Federal State Institute and interbranch scientific and technical complex 'Eye microsurgery', Moscow, 2006;
"Transplantation technique 'Alloplant' in eye surgery", "The All-Russian Center for Eye and Plastic surgery", Ufa, 2007.
"Methods of phacoemulsification", "ALCON", Moscow, 2008.
Work experience
Major working areas:
Refractive corneal surgery in myopia, hypermetropy, astigmatism.
Refractive lensectomy in myopia and hypermetropy with IOL implantation (multifocal, toric etc.).
Cataract surgery (ultrasound phacoemulsification for cataract with various levels of progression).
Glaucoma surgery (IOP-lowering surgeries).
Make an appointment