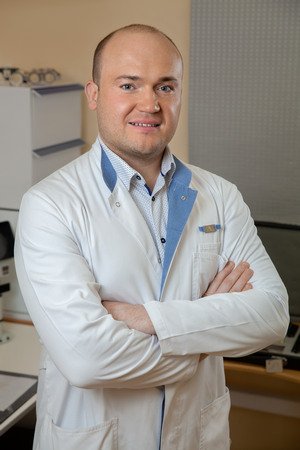 Clinic: Moscow
Work experience: 15 years
The candidate of medical Sciences. Vitreoretinal surgeon. The surgeon of the 5th department of the Ophthalmic clinic, specializing in surgery of the anterior segment of an eye.
Background
In 2001 he graduated from Amur State medical Academy on specialty "medical business".
From 2001 to 2003 he studied in the clinical internship at Moscow Ophthalmologic Clinical hospital.
Work experience
Main activities:
Detachment of retinal (microinvasive endovitreal and episcleral surgery)
Vitreomacular pathology (macular holes, epiretinal fibrosis, vitreomacular traction syndrome)
Hemorrhage into the vitreous body (on the background of diabetic retinopathy, post-thrombotic retinopathy, retinal tears)
Complications associated with cataract surgery (subluxate and luxate IOL, lens and its fragments in the vitreous body)
Reconstructive surgery of traumatic injuries to an eye.
In addition, Dr. O. E. Ilyukhin has successfully completed more than 5 thousand phacoemulsification, including the complicated cases of subluxation and dislocation of the lens into the vitreous body.
In 2012 O. E Ilyukhin has defended his thesis on "Comparative analysis of bimanual microcoaxilial and coaxial phacoemulsification".
Repeatedly has passed specialization in various aspects of ophthalmology in the leading Russian and foreign ophthalmology centers (Austria, France, India).
Video-feedbacks
Part 1
Translation from Russian: I'm Michael Stolov, I had a very severe contusion, it was an unfortunate incident - I chopped the woods and a branch with the size of a finger flew off with such force that knocked the lens, torn iris, bleeding and all that jazz. Had to get emergency care, was in Helmholtz research Institute, 10 days led me there, so to speak, more or less in order, had reduced an eye pressure, and there was not the retinal detachment, at that moment, I decided to hold off on surgery and some rest. To understand what to do. Then I began to explore the possibilities - do in Germany, do in Israel.
First of all, I decided to make the diagnosis, in which I would be confident. But as you know, we all rely more on foreign experts, so the shortest way is to go to Israel. I went there, was screened at the Professor and was told: you have a detached retina, it is necessary to do surgery and do not pull. I returned to Moscow and began to study Moscow possibilities, looked all over the Internet - some options, other options, and instinct told me that it is worth choosing "Moscow Eye Clinic". I have read the information on the Internet, got a fairly complete picture, and then I made an appointment to Oleg Evgenievich Ilyukhin. He checked and said I had the retinal detachment and need a surgery. Not to do so means to lose the eye, to do so – there is the hope that it can be saved in varying degrees. The operation was done, the surgery lasted 2.5 hours, many thanks to the anesthesiologist, Mikhail Ivanovich - I didn't feel anything, when I had my surgery and when I woke up didn't feel any discomfort.
Well, I want to thank you to Oleg Evgenievich again and the whole staff, it was all good. I stayed one night at the clinic, so as not to risk, but risk was something special and there is nothing. Thank you to all the staff, preparing for the next stage.
Part 2
Translation from Russian: It will be what is called the second series of videoconferences. As I said last time, on the 4th of February, I had done the first phase of the operation, it was vitrectomy, and now I had a second phase of operation (February 14) the silicone oil was removed and replaced with saline. This operation was successfully done, it was of course much easier than the previous one, it held under so-called contact anesthesia when the patient contact is saved with the doctor. And then after some rest I went home. The operation has been done well. And of course, the main thing that interested me - how would I feel after surgery if any complications would be, how it all would go. And I must say that everything has gone smoothly. Today it took 2 months after the operation, the pressure in the operated eye is normal. Twice I did even so-called laser coagulation, this is also probably played a role, and the doctor is satisfied with the results. I am also pleased with these results, because the eye sees. It's a pity, lost the sharpness of the eye, it sees far, but not dramatically, it is because I have lost the time for the operation. And since I had a subtotal hemorrhage, when blood started to dry out - it began to tear the retina and started to destroy it. Although at the initial stage, immediately after injury, the retina was in place. Therefore, you should not waste time, as soon as possible to run to the doctor. But it is very important - I want to emphasize to get to a qualified doctor. Unfortunately, at the first stage I have not explained well-enough that awaits me, why it is very important. Maybe if I had a surgery within 2 - 3 weeks after injury, when the retina is not torn, then I would be able to save the vision completely. Unfortunately, this did not happen. In conclusion I want to say that I am very pleased with the staff at this clinic, I am grateful to Oleg Evgenievich and his charming assistant, Anna Alexandrovna and Alena Alexandrovna, and all the staff. Everyone is very attentive, very friendly.
I want to thank Oleg Evgenievich Ilyukhia and the entire hospital staff, including doctors, anesthesiologists and administrators. Ophthalmologist O. E. Ilyukhin thank you very much for your professionalism, confidence and courage to take on "difficult" case with eyes. Thanks to the optometrist Anna Andreevna Shcheholeva for a help. I wish the prosperity to the clinic, and the staff – well-being and good luck in your very important job. Many people has given and will give recommendations about you!
Make an appointment